Handling Amazon Chargebacks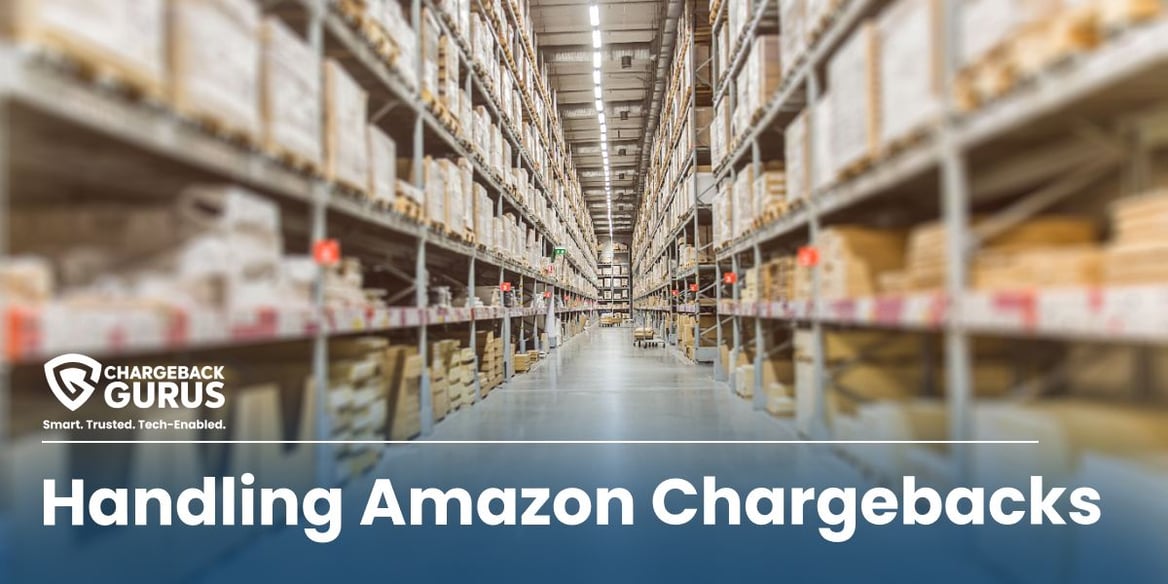 Amazon has transformed the way consumers shop and the way merchants sell products. As a global marketplace, it connects millions of buyers and sellers, fueling a dynamic e-commerce ecosystem. Like any marketplace, however, it can create additional complications for merchants when dealing with chargebacks.
Because Amazon is the merchant of record, they must respond to chargebacks on behalf of the seller, and they have their own systems and rules for disputed transactions.
Let's take a closer look at how Amazon chargebacks work and what merchants can do to prevent them.
Amazon Seller and Amazon Pay
One complication in dealing with Amazon chargebacks is that there are two different ways merchants might encounter them: By selling on the Amazon marketplace or by offering Amazon Pay as a payment option on their own website.
In either scenario, however, the transaction will go through Amazon Pay and any disputes will be handled through Seller Central.
Buyer Disputes, A-to-Z Guarantee Claims, and Chargebacks
Another complication is the fact that, like most online marketplaces, Amazon has its own avenues for customers to dispute purchases. These are intended to draw customers away from filing chargebacks, which have additional costs for Amazon. In all, there are three ways customers can dispute Amazon purchases.
Buyer Disputes
Buyer disputes arise when a customer is dissatisfied with a purchase and contacts Amazon to seek a resolution. This could be due to a product not matching its description, delays in shipping, or other concerns related to the purchase.
The resolution of a buyer dispute is generally between the buyer and seller, without Amazon's direct intervention.
It often involves negotiations like offering a refund, exchange, or other resolutions that satisfy the buyer. Handling these disputes effectively can prevent escalation into a more formal chargeback or A-to-Z Guarantee claim.
A-to-Z Guarantee Claims
Amazon's A-to-Z Guarantee is designed to build trust among buyers by providing an additional layer of protection. If a buyer and seller cannot agree on a resolution to a dispute, the buyer can file an A-to-Z Guarantee claim with Amazon. The company then reviews the claim and may grant a refund to the buyer, even if the seller disagrees.
The criteria for these claims include situations where the item was not received or if the received item is damaged, defective, or materially different from what was described. It's a unique process that requires sellers to be aware of Amazon's specific policies and be prepared to provide evidence if a claim is filed.
Chargebacks
Chargebacks are a more formal and complex process that begins when a customer disputes a charge through their issuing bank.
A chargeback may be initiated if a customer believes a charge is unauthorized or if they didn't receive what they paid for. In many cases, however, customers dispute charges on false pretenses. This is known as friendly fraud.
Understanding the chargeback process, responding promptly with required documentation, and working to prevent chargebacks through excellent customer service are critical for sellers.
The Amazon Chargeback Process
When a chargeback occurs, Amazon notifies the seller via the email address associated with their Amazon Pay account. What happens next depends on whether the chargeback is eligible for the Amazon Pay Purchase Protection Policy.
In order to be eligible, the following requirements must be met:
The purchase was for physical goods only
The chargeback's reason code indicates the transaction was unauthorized
The seller is not in violation of any of Amazon's policies
The seller provides all information requested by Amazon within 11 calendar days
If these requirements are met, Amazon will cover the costs of the chargeback. If the chargeback is ineligible, the seller must choose to either accept the chargeback or dispute it within 11 calendar days. Accepting the chargeback or failing to respond within the time limit will result in the transaction amount being deducted from the seller's account.
If the seller chooses to dispute the chargeback, they will need to provide evidence that the claim is illegitimate. At minimum Amazon requires:
The status of the transaction
A description of the product or service
Proof that the product or service was received by the cardholder
Amazon also suggest that sellers include any additional relevant evidence, such as:
Order confirmation emails
Details of any changes, refunds, or cancellations of the order
Tracking numbers
Usage logs for digitally downloaded goods
Photos of the item
A copy of the seller's refund policy
Records of customer communication
Amazon will also charge a $20 fee to dispute the chargeback. If the issuing bank still decides the case in the cardholder's favor, the transaction amount will be deducted from the seller's account.
Preventing Amazon Chargebacks
Preventing chargebacks begins with clear communication and setting the right expectations. Accurate and detailed product descriptions, high-quality images, and transparent shipping and return policies can reduce misunderstandings.
Sellers should ensure that customers fully understand what they are purchasing, the costs involved, the expected delivery times, and the return procedures.
By setting clear expectations upfront, the likelihood of dissatisfaction that leads to chargebacks can be minimized.
Customer service also plays a vital role in preventing chargebacks. Quick responses to customer inquiries, addressing concerns, and providing regular updates on shipping status can build trust and satisfaction. Implementing reliable shipping practices is also essential.
By using reputable shipping services and offering accurate tracking information, sellers can ensure that products arrive on time and in good condition. Proactive communication can resolve many issues before they escalate into chargebacks.
Conclusion
Amazon chargebacks are a complex but manageable aspect of online selling. Proactive measures to align with customer expectations and Amazon's policies can significantly reduce the risk of chargebacks.
By focusing on excellence in every facet of the selling process, merchants can foster trust and satisfaction among their customers, thus minimizing the potential for chargebacks.
Thanks for following the Chargeback Gurus blog. Feel free to submit topic suggestions, questions, or requests for advice to: win@chargebackgurus.com
Similar Posts
Schedule My Demo Let us answer your questions.