Understanding Your Credit Card Decline Codes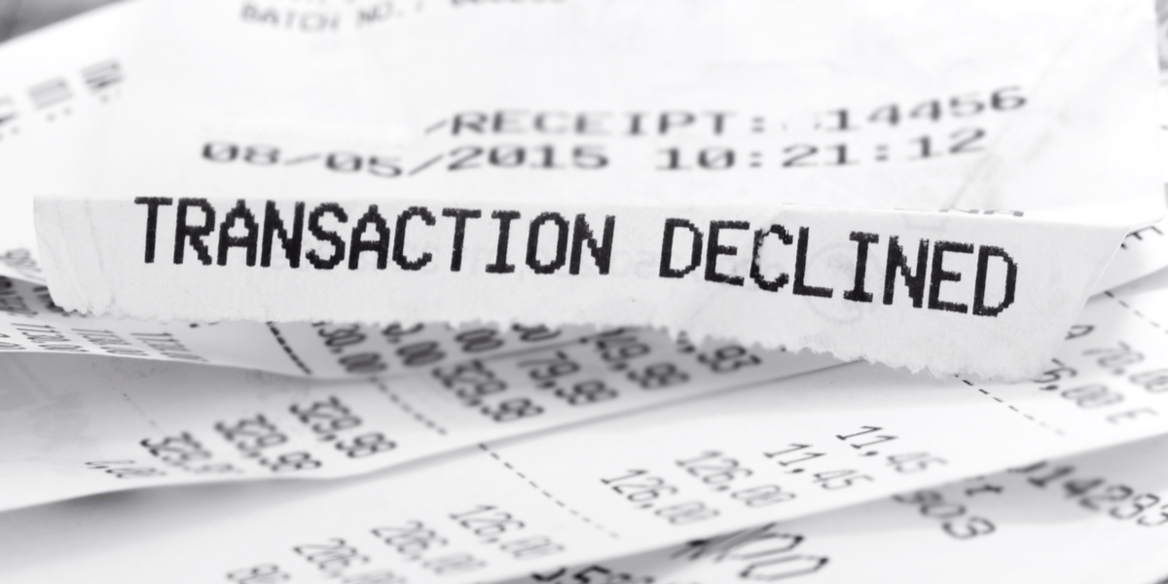 Table of Contents
A credit card being declined is never a fun experience. Many customers feel both a sense of frustration at the delay in making their purchase and a sense of embarrassment, worrying that anyone around might assume they're someone who spends money recklessly. Merchants know, however, that there are a wide variety of possible reasons for a credit card being declined. Some of these reasons can be resolved quickly and easily, while others require the merchant to ask for another method of payment or even take some other action requested by the issuer.
In order to respond properly to a declined credit card and salvage those transactions that can be salvaged, merchants need to be familiar with the decline codes they might receive and what those codes mean. Let's talk about the most common decline codes and how merchants should respond when they receive them.
Most decline codes are sent early in the transaction process, when the merchant first attempts to obtain authorization to run the card.
A decline message doesn't mean the transaction is a loss. Even if the customer doesn't have an alternate payment method, many decline codes indicate errors or inconsistencies that can be corrected.
If this can be done, the merchant can keep attempting the transaction until the reasons for the decline are addressed and the transaction goes through. However, merchants need to be careful about getting the proper authorization and re-running transactions correctly, or else they could end up liable for authorization-related chargebacks down the line.
Many entities are involved in processing a credit card transaction. It starts with the merchant and the customer, but before any money actually changes hands, it will go through a payment processor, gateway, and the customer's issuing bank. If any of these parties detects a problem with the transaction, they may reject it. If this happens, they will send back a decline code that specifies the reason why the transaction could not be processed.
Decline codes aren't completely uniform across all networks, but after a major effort in recent years to standardize these codes across the industry, there's now a standardized list of codes covering most situations.
Merchants will rarely encounter a network-specific decline code, but if they do, they'll need to reference that network's list of response codes in order to understand what it means.
List of Credit Card Decline Codes
| | |
| --- | --- |
| Decline Code | Meaning |
| 01 | Refer to issuer |
| 02 | Refer to issuer (special condition) |
| 03 | Invalid merchant |
| 04 | Pick up card (No fraud) |
| 05 | Do not honor |
| 06 | Error |
| 07 | Pick up card (fraud) |
| 10 | Partial approval |
| 12 | Invalid transaction |
| 13 | Invalid amount |
| 14 | Invalid account number |
| 15 | No such issuer |
| 19 | Re-enter transaction |
| 21 | No action taken |
| 25 | Unable to locate record in file |
| 28 | File temporarily not available for update or injury |
| 41 | Lost card, pick up |
| 43 | Stolen card, pick up |
| 51 | Insufficient funds |
| 52 | No checking account |
| 53 | No savings account |
| 54 | Expired card |
| 55 | Incorrect PIN |
| 57 | Transaction not permitted - card |
| 58 | Transaction not permitted - terminal |
| 59 | Suspected fraud |
| 61 | Exceeds approval amount limit |
| 62 | Invalid/restricted service code |
| 63 | Security violation |
| 64 | Transaction does not fulfill AML requirement |
| 65 | Exceeds withdrawal limit |
| 70 | PIN data required |
| 75 | Allowable number of PIN entry tries exceeded |
| 76 | Unsolicited reversal |
| 78 | Blocked, first use |
| 79 | Already reversed |
| 82 | Negative CAM, dCVV, iCVV, or CVV results |
| 85 | No reason to decline |
| 86 | Cannot verify PIN |
| 91 | Issuer or switch unavailable |
| 92 | Unable to route transaction |
| 93 | Transaction can't be completed - violation of law |
| 96 | System error |
| 97 | Invalid CVV |
| 1A | Additional customer authentication required |
| R0 | Recurring charge stopped at customer request |
| R1 | Recurring charge stopped at customer request |
What Are the Most Common Decline Codes?
The list of credit card decline codes is long—even longer if you were to include all those specific to one network or issuer—but some codes are more common than others. Codes 51 (insufficient funds) and 05 (do not honor) are especially common.
Here's a rundown of the most common decline codes:
51 - Insufficient funds: At the time authorization was requested, the customer's account did not have sufficient funds to cover the transaction.
65 - Withdrawal limit exceeded: The transaction would exceed the maximum withdrawal amount on the account. This code may specify that the limit is daily, weekly, or monthly.
05 - Do not honor: The issuer will not process the transaction. The customer will need to contact them for further details
54 - Expired card: The card is past its expiration date.
14 - Invalid card number: The card number provided does not match any active card in the issuer's database.
97 - Invalid CVV: The CVV number provided does not match what the issuer has on file. Incorrect CVV numbers may also result in code 63, which indicates a security violation.
94 - Duplicate transaction: The transaction details match an earlier transaction and the processor is flagging it to prevent an erroneous double charge.
R0 or R1 - Recurring charge stopped at customer request: The customer asked their bank to stop accepting a particular recurring charge.
03 - Invalid merchant: The merchant may not have configured their payment processor software correctly.
41 or 43 - Pick up card, lost or stolen: The card has been reported lost or stolen, and the issuer is asking the merchant to keep the card, if possible, and call them.
Obviously, you wouldn't want to keep trying to run a card that had been reported lost or stolen, but it's not unheard of to mistype a CVV number or expiration date. You can try to correct errors and attempt a transaction a second time when you understand which transactions are safe to retry and which should not be attempted again. The key is knowing the difference between hard and soft declines.
Aggressive anti-fraud tools at the processor level can sometimes cause soft declines. Your processor will have rules and guidelines for retrying soft-declined transactions. Review the information they have provided you and be especially careful about allowing automated retries. In a card-not-present environment, your system should ideally be set up to block repeated attempts at a transaction that has returned a hard decline code.
The best way to recover sales in the case of hard declines is to offer the customer alternate payment methods. You can also offer to hold an item in reserve if they need to contact their bank to resolve a security flag or get their limit increased.
Merchants should never attempt to "brute force" a transaction without proper authorization, as these can result in chargebacks that they will be unable to fight. When you do work with a customer to get around a soft decline and obtain authorization for a transaction, make sure you carefully document the actions you took and retain that information as evidence in case they ever decide to dispute it. Good record-keeping can be crucial to successfully fighting a chargeback dispute.
Merchants may benefit from keeping a reference sheet on hand with a list of decline codes and instructions for employees on how to handle each. This allows employees to inform customers why their card has been declined and prevents any mix-ups involving retrying or not retrying a transaction.
Having consistent policies for handling various decline codes can help process any transactions that can be processed and prevent authorization-related chargebacks.
Nobody likes getting a decline code—not the customer, and certainly not the merchant—but they serve an important purpose by preventing problematic transactions from going through and alerting you to the issues that need to be resolved. When merchants understand the decline codes their processor returns, they can act quickly and decisively to recover sales by correcting transaction errors and offering alternative payment methods
FAQ
---
Thanks for following the Chargeback Gurus blog. Feel free to submit topic suggestions, questions or requests for advice to: win@chargebackgurus.com
Get Guru Guidance Let us answer your questions.