Apple Pay Later: What Merchants Should Know

Written by Suresh Dakshina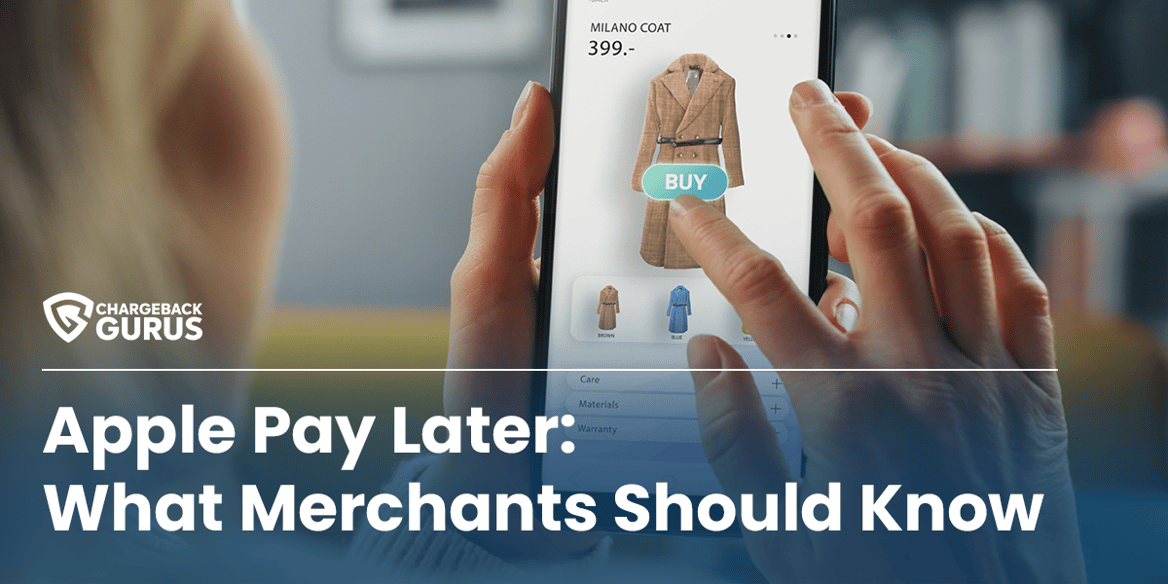 Buy Now, Pay Later has been making big waves in the world of payments lately, with lots of contenders getting into the mix. Dedicated startups and established retailers have been in competition for consumers' deferred payment dollars, but the big tech companies have largely stayed out of it—until now.
This year, Apple is set to launch its own BNPL service, Apple Pay Later. With a receptive base of Apple Pay users ready to take advantage of this offering, Apple Pay Later could have a major influence on BNPL's evolution. How will Apple Pay Later work, and what does it portend for the future of BNPL payments?
BNPL has been one of the biggest trends to hit the payments industry in recent years. BNPL transactions hit $100 billion in 2020, and most analysts have been predicting rapid continued growth.
BNPL is especially popular among 18-34 year olds who have seen the trouble that older generations got into with easy consumer credit, high interest rates, and mounting debt.
While a wide variety of payment plans exist under BNPL, one of the most popular models is a zero-interest "pay in four" model where purchases are split into four biweekly installments.
Consumers like BNPL because it allows them to make big-ticket purchases immediately, without having to save up for the full price or dig themselves into a hole of high-interest consumer debt that could drag them down indefinitely. Merchants like it because it leads to more sales (and bigger sales).
While some merchants offer their own in-house installment plans, most go for the easier option of accepting BNPL payments from third-party providers like Affirm, Klarna, and now PayPal. As a well-known and trusted brand, PayPal was able to take hold of a large chunk of the BNPL market in the US, but we all know that markets rarely remain unchanged when Apple decides to enter the fray.
What Is Apple Pay Later?
Apple Pay Later is a BNPL service that will be integrated with Apple Pay and financed through a partnership with Goldman Sachs. Officially announced for the first time at Apple's Worldwide Developers Conference, it is currently expected to be released in September 2022 in conjunction with the iOS 16 update.
Apple Pay Later will be usable from within Apple Pay or the Apple Wallet, but only for online or in-app transactions. It appears that for now, Apple Pay Later cannot be used for in-person purchases at brick-and-mortar locations. The transaction limit will be capped at $1,000.
How Will Apple Pay Later Payments Work?
With Apple Pay Later, users will be able to choose a standard pay-in-four option in which the purchase price is split into four equal installments. One installment must be paid up front at the time of purchase, and the remaining three are paid in two-week intervals. Under this plan, no interest or fees are charged.
Installment payments will be taken automatically from the user's checking account through a debit card they have registered with Apple Pay.
On the back end, Goldman Sachs—currently the issuer of the Apple Card—will handle payments to merchants via the Mastercard network. The actual underwriting and lending will be handled by Apple itself, through their Apple Financial Services subsidiary. Instead of relying on standard credit checks, Apple will be able to use the vast amounts of behavioral data it gathers from its customers to make loan approval decisions.
How Will Apple Pay Later Impact the BNPL Marketplace?
The big advantage that Apple Pay Later will have over its competitors right out of the starting gate is that it will be fully integrated with the Apple Wallet users are already familiar with. They won't need to download an app, register for a third-party service, or look for participating merchants—Apple Pay Later will be right there as an Apple Pay option. Installment payments are set up to be automatic, and users can view and manage their BNPL activity from within the Apple environment they're comfortable with.
Apple's entry into BNPL will put pressure on existing providers at a time when BNPL services are already getting stress-tested. Inflation is up, interest rates are rising, and many consumers are worried that the country is heading into a recession. Given these circumstances, many will be thinking twice about making large unnecessary purchases and taking on new debts, even at zero interest.
At the same time, Apple Pay Later's $1,000 lending cap could make the service less attractive to its more affluent users, who typically use BNPL for larger purchase amounts.
Where the service could really take off is among consumers in the Gen Z and Millennial demographics who have already bought into the Apple ecosystem and have just as much experience using digital wallets as they do plastic payment cards. These younger consumers are already the largest user base for BNPL, and Apple Pay Later will make it even more accessible to them. However, the fact that Apple Pay Later can't be used at a physical point-of-sale terminal will limit its growth somewhat.
How Will Chargebacks Work with Apple Pay Later?
One other big reason for merchants to like BNPL is that it insulates them from chargebacks. Because the customer is paying the BNPL provider and the BNPL provider is paying the merchant, there's no way for a customer dispute to result in a direct chargeback against the merchant.
Apple Pay allows users to dispute transactions, but because Apple Pay Later purchases are funded through linked debit cards, they would not be subject to the same rules and penalties as credit card chargebacks.
Conclusion
BNPL has been enjoying a meteoric rise these past few years, but the downside of cheap and easy lending for consumers is that it's easy to overextend yourself. Some of BNPL's shine may wear off as shoppers come to realize that deferring payments isn't the same as saving money, but Apple Pay Later could introduce the BNPL concept to a whole new cohort of consumers.
Merchants won't have to worry about whether or not to accept Apple Pay Later, assuming they already accept Apple Pay.
Whatever is in store for BNPL in the years ahead, merchants stand to benefit from simple, low-cost consumer lending plans that sidestep credit card networks and their chargeback rules.
---
Thanks for following the Chargeback Gurus blog. Feel free to submit topic suggestions, questions, or requests for advice to: win@chargebackgurus.com
Similar Posts
Get Guru Guidance Let us answer your questions.